BUILDING TOGETHER FOR A SUSTAINABLE FUTURE
An essential part of the CEMENTIS force is our management team. They work hand in hand to ensure CEMENTIS values and quality run deep throughout the organisation, making sure we adhere to the common standards and values. They lead from the CEMENTIS core with experience, expertise and innovative thinking.
OUR GROUP MDs IN THE REGION
HEBA CAPDEVILA-JANGEERKHAN
GM CEMENTIS MAURITIUS
Heba is the COO of the Taylor Smith Group. She studied in the UK for her undergraduate and master's degrees. She has 30 years of professional and international experience in business, including sales and marketing, human resources, strategy, and development, in private and public organisations worldwide. She speaks five languages and had lived and worked in Europe, the Middle East and South America before settling in Mauritius in 1995. Her industry experience includes Textile, Retail, BPO Industries, Manufacturing, Marine Activities, Logistics & Distribution. She is a fellow member of the Mauritius Institute of Directors, a Council member of Mauritius export Association, an Independent Board Director of Le Moulin de La Concorde.
ACTING MD CEMENTIS REUNION
Thierry is an ESTP engineer who has been involved in the construction materials industry for almost 30 years. Having spent almost his entire career with the Group in Reunion Island,
Thierry has built up his experience by successively managing our precast, concrete and cement activities. He had the chance to enrich his career in France for a few years by managing an integrated plant for the EQIOM Group. But being an islander at heart, he returned to Reunion Island at the end of 2018 to take over the Industrial Management of Reunion Island and, more recently, the industrial Management of the CEMENTIS Group. Thierry is now the General Manager of Cementis Reunion since September 12, 2022.
Engineer from Ecole Polytechnique de Palaiseau, Ecole Nationale des Ponts et Chaussées in France, and also holding a DESS in Finance, François has 17 years of professional experience in Enterprise strategy development, and particularly in the cement industry in Africa since 2013. He has been leading the operations in Madagascar since February 2018.
HEAD OF OPERATIONS CEMENTIS MAYOTTE AND COMORES
An industrial systems engineer with a master's degree in marketing and management, Louis has 16 years of professional experience in marketing, sales and profit center management in France, Reunion Island, Cameroon and Gabon. He joined the CEMENTIS Group in November 2020.
SHAPING
OUR WORKFORCE
CEMENTIS is an equal opportunity employer with a dynamic and agile workforce with great diversity, commitment to excellence and a passion to deliver their very best on a daily basis. We collectively contribute to accomplish our objectives in a spirit of cooperation, transparency and continuous improvement underpinned by our intentional integrity values.
We provide a safe and inclusive environment to enable all our employees to excel and fulfil their own professional desires on a daily basis.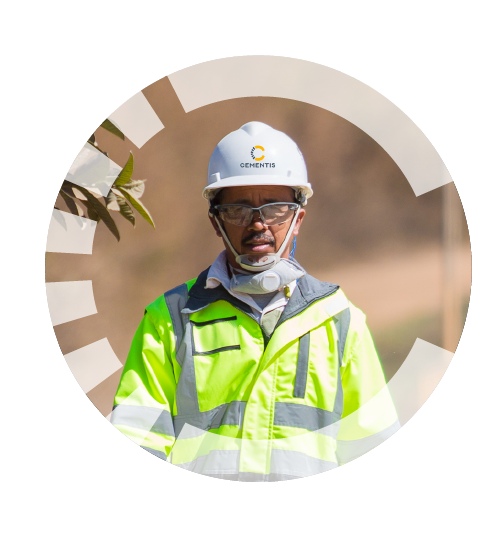 SHAPING
OUR CUSTOMERS' SUCCESS
At CEMENTIS, our goal is to promote the success of our customers. We are actively seeking clients for long term partnerships, so that together we are stronger, throughout this journey. We are a partner of choice, constantly acting to help carry out projects, identifying efficiency gains and sharing responsibility for operational risks. Through a culture of exceptional service, we embody a lasting business partnership by providing quality products at unbeatable prices as well as expertise and excellence in tailor-made services.