OUR PRODUCTS

CEMENTIS is the new leading group of cement and concrete production and distribution in the Indian Ocean.
In Mauritius, the Group owns a range of leading cement brands for clients in construction and related industries.
In the same way that CEMENTIS acts as a bond between the five Indian Ocean Island nations, Cement is an adhesive used in concrete. It is the key ingredient in concrete combining sand, aggregates, additives and water. Cement itself is a fine mineral powder produced from heating limestone and clay. It is a versatile product that can harden in air and underwater. 
CEMENT
PRODUCTS
On the local market, CEMENTIS distributes its cement under one brand named Baobab. Baobab cement range of product is composed of three products, Baobab Heavy Duty, Baobab High Performance and Baobab Masonry.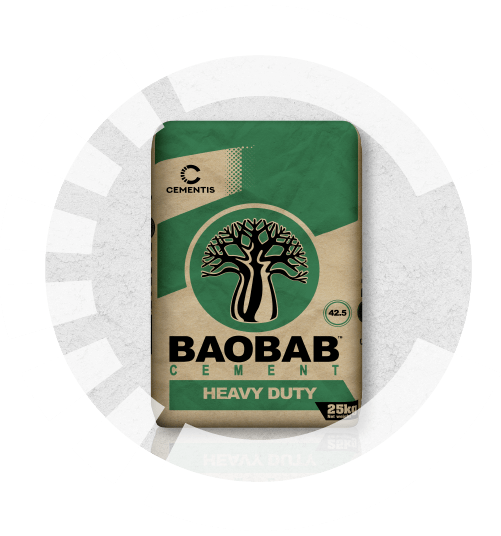 BAOBAB HEAVY DUTY
Baobab Heavy Duty is a quality BS EN 197-1 Portland cement available in CEM I variant and CEM II fly ash blended variant, ideal for construction requiring early strength and high MPa performance. Baobab Heavy Duty is ideal for high-rise building and large infrastructure.
Available in 25kg paper bags.
Characteristics
• NORMATIVES NAME:
CEM I 42.5 N EN 197-1 (available in bags and bulk)
CEM II/A-V 42.5 N EN 197-1 (available in bags only)
BAOBAB HIGH PERFORMANCE
With its new formula, Baobab high performance is a general use cement ideal for structural works for residential type buildings. It has been specifically designed to adapt to the local tropical climate.
Characteristics
• NORMATIVES NAME:
CEM II/B-Z 32.5 TU MS 36-3 (available in bags only)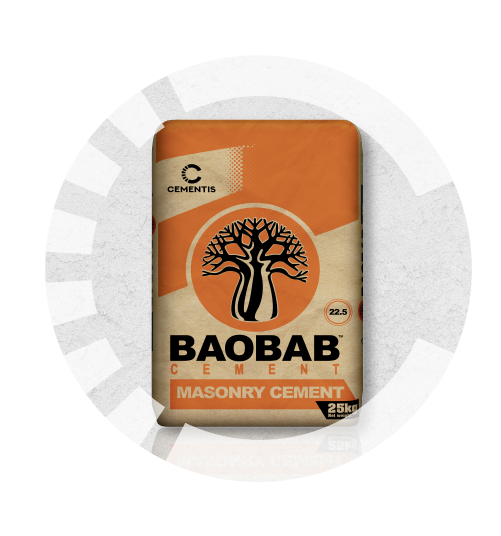 BAOBAB MASONRY CEMENT
Baobab Masonry Cement has a unique combination of properties that make it ideal for masonry applications. Baobab Masonry Cement is a grade 22.5 cement provides an excellent bond for blockwork, plastering, fixing, repairing, screed and jointing.
 Its advanced water repellent properties help reduce the risk of rain penetration through cracks in walls, while its anti-fungal properties prevent fungal growth on the surface of blocks.
Characteristics
• NORMATIVE NAME:
MC 22.5X BS EN 413-1:2011
Cementis works closely with our clients to produce tailored services to meet their specific needs. We have continuous and active dialogue with clients and suppliers, invest in innovative solutions and seek to understand our client needs, adapt to market changes and deliver products that cater to their needs.
Cement Producer:
CEMENTIS MAURITIUS provides the widest range of high-quality cements on the market and offers many benefits to retailers, self-builders, masons, contractors, and infrastructure specialists: improved worksite productivity with high strength, enhanced environmental performance, as well as other value-added speciality cements, such as masonry cements. 
Cement Distributor:
The cement terminal, located in the capital city of Port-Louis, offers bag and bulk delivery. CEMENTIS Mauritius, with its nine concrete vertical silos, the optimal storage method for cement.
In addition to the Terminal of Port-Louis, CEMENTIS MAURITIUS has 3 depots in:
Valentina, Phoenix (Centre)

Bon Air, Triolet (North)

Rose-Belle (South)
A decentralized customer orientated solution that delivers efficiency by reducing transport costs and optimal lead time.
OUR PROJECTS
IN MAURITIUS
Our cement has been used in several prestigious regional building projects as well as major infrastructure developments, offices and residential developments. Regardless of the scale, we are chosen for our quality, excellence and reliability.